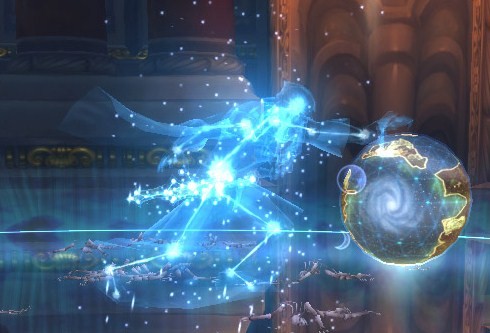 The new guild seems to be working out pretty well, in case you were at all curious. On Tuesday we continued our attempts on 25-Firefighter and managed to get it down after only an hour, which left us time to start work on hardmode Yogg.
It also meant that Algalon-25 was unlocked.
Last night we intended to work on Algalon, then go to ToC and work on hard modes there. We specifically moved our Algalon-10 attempts up to give people some experience at the encounter beforehand who hadn't seen it.
And in our first hour of attempts, Algalon died! Last pull, with only two people alive at the end (gogo Ardent Defender and Guardian Spirit), DoTs finished him off through the last big bang; we weren't sure that we got him until he just kinda stood there and looked emo. I'm amazed at this; having one hour to work on him and getting him down in that time is really outstanding, even if having all that gear from ToC helped and it wasn't what you'd call the most impressive kill shot. That was realm first, so now Fellhoof is sporting the groovy title "Celestial Defender". That's probably my favorite one since Hand of A'dal.
ETA: Here's a great log of
how much damage was done
after basically everyone in the universe died a horrible death. All I can say is that rip is AWESOME. And I should've just refreshed rakes.
I was expecting people to not be on their game after that awesomeness, but we then proceeded to go to ToC and one-shot beasts, kill Jaraxxus after a few attempts and one-shot Faction Champs on heroic - the last two were also progression for us. We got a few attempts in at heroic Twins before we were overcome with pain and huge amounts of ball jokes.
Pretty incredible work for a guild that does 8 hours of raiding a week.
Finally, to end the night, I was promoted from a trial membership to full-time.
I've talked about it before, when people felt like things were on, everyone was in a good mood, etc - and this was one of those nights. I felt like this when Fire and Blood downed Kael'Thas for the first time, too. It's a rare joy, and it doesn't happen often, but when it does it makes you understand how great raiding can be.
Next week we're going back to Ulduar to finish off some of the hardmodes that people have missed and then work on Yogg+1, the last major hardmode that has yet to be completed there. If this week is any indicator, that means we'll have time to work on Twins again. Twins is a really interesting fight; much like vehicles a lot of your success has nothing to do with how you play your toon and everything to do with managing the balls. Unlike vehicles, this somehow is way less frustrating to deal with and is downright fun. I also like it because it's not the kind of fight you'll ever really be able to brute force; it will require strategy, and the strategy is definitely going to make a huge difference in quality. I'm anxiously awaiting
Bellwether's report
on how she dealt with the fight.